There Can be Only one

No Title

No information
There can be Only One is a sequence from Asdfmovie8.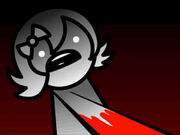 Girl 1: My boyfriend said I'm the cutest girl in the world!
Girl 2: (giggles)My boyfriend said that too!
(Girl 1 stabs Girl 2) Girl 1: There Can Be Only One!