Skateboard Cow

Do you want to go skateboards?

Gender

Male

Appearance

asdfmovie8 and asdfmovie10

Voiced by

Tomska

Colors:

Tan
Black
White
The Skateboard cow (also known as a cow pretending to be a man) is a cow that wants to do nothing but go "skateboards."
Appearances
Edit
He first appears in the skit a Cow pretending to be a Man, where he asks 2 men if they want to go skateboards. His second skit is where Eddie asks Zelda if she's leaving him, but Zelda tells Eddie that she's met a real man, suddenly, the cow asks Zelda if she wants to go skateboards. In the end of Asdfmovie8, however, an orphanage master wonders who would have killed the orphans, the cow on his skateboard whispers, "Skateboards". His latest appearance is in the final sketch of asdfmovie10, where he is trying to say "Meow, meow. I'm a cow. I said, meow, meow, I'm a cow." when a sheep says, "NOO!"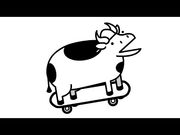 "Skateboard Cow isn't looking very good."
This article is a stub. Please help the Asdfmovie Wiki by expanding it.
Thank you!

This is a stub template.
Ad blocker interference detected!
Wikia is a free-to-use site that makes money from advertising. We have a modified experience for viewers using ad blockers

Wikia is not accessible if you've made further modifications. Remove the custom ad blocker rule(s) and the page will load as expected.