Mine Field
Season 4, Episode 5

Air date
N/A
Written by
N/A
Directed by
Thomas Ridgewell
Video
center|250px
Episode guide
Previous
Oh
Next
Pie
Mine Field is the fifth scene of asdfmovie4.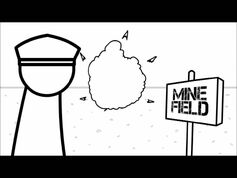 Transcript
Edit
Policeman: Hey, kid, you can't skate here!
Skater kid: You can't tell me what to do!
(Skater kid blows up)
The explosion might have been caused by the Mine Turtle.
This asdfmovie sketch would later be reenacted in the asdfmovie music video, Mine Turtle.