The "I Like Trains Kid" is the star of the 'I like Trains' sketch, the most well known sketch of asdf movie, everytime he says "I like trains", a bystander, himself or both, get run over by a spontaneous train.
I Like Trains Kid
Have an image of this character?
Then please upload it!
Name
I Like Trains Kid
Gender
Male
Favorite Thing to Do
saying "i like trains"
First Appearance
asdfmovie2

I Like...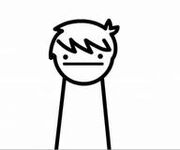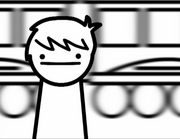 Appearances
Edit
Asdfmovie 2
I Like ______
Cookies
What are you up to Son?
Who`s Gay 2 (train only)
Asdfmovie 3
Asdfmovie 6
Here Comes the Airplane (Appears as a baby)

And in his own song (by Tomska) I Like Trains Song
The "I like trains" kid was modeled and voiced by Edd Gould, who passed away on March 25, 2012 from Leukemia, a type of cancer from blood or bone marrow. The character has not appeared in any sketch since, except in "Here Comes the Airplane" as a baby but the child doesn't speak.