I Like Trains Kid

I Like Trains.

Gender

Trainsgender (Probably male)

Appearence

Asdf movie 2,3,6,9,10
The Asdfmovie (Lionsgate)

Voiced by

Edd Gould (2010-2012; 2015 uncredited archival recorded; 2017)
Nathan O'Brien (The Asdfmovie)

Colours

Tan Orange Blue
The "I Like Trains Kid" is an asdfmovie character that appears in the 'I like Trains' sketch. Everytime he says "I like trains", a bystander, himself or both, get run over by a spontaneous train.
Sometimes, this train may be delayed and used as an offensive weapon, as in "Who's Gay 2" skit in Asdfmovie2, where the train hits the bully and the gay guy.
His present and past selves both appeared in Everybody do the Flop, but instead of falling on their faces, they got hit by a train and plane, respectively.
His latest appearance was in Asdfmovie10, only his voice was heard.
Biography
Edit
According to the "I Like Trains" song, when the I Like Trains Kid was born, he never said anything, nor did he make a sound to his parents. A few years later, on his first day of school, his teacher asked him his name. Finally, he smiled and said, "I like trains".
His parents later took him to a hospital and put him on some Ritalin to see if it would help him with his speech. Eventually, the doctor found the perfect dose (9,401,306) and asked I Like Trains Kid how he was feeling. He smiled at the doctor and said, "I feel great!"
The I Like Trains Kid was able to get an office job and straighten out his life. He sold his own home and met a nice girl who he asked to be his wife, which she gladly accepted. During their wedding day, as they stood at the altar, and prepared to say their vows. He put a ring on her finger, and said "I like trains", resulting in the entire crowd getting run over by a train, not including him or the nice girl.
The I Like Trains Kid is immortal to his tagline, which explains why he still lives on even though he is shown to get hit by the train in several clips.
"I like trains!"
"I feel great!" - I Like Trains Music Video
"Train powers, ACTIVATE!" (Movie)
Appearances
Edit
I Like Trains
Cookies
What are you up to Son?
Who`s Gay 2 (train only)
Here Comes the Airplane (Appears as a baby)
Mobile Trains (on a guy's phone)
Trainsgender Guy (voice only)
What are you up to Son?
I'm gonna punch you in the face! (Bully gets hit by a train.)
Are you an Angel? (Train Only)
Song Appearances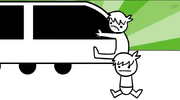 The Asdfmovie (Almost all scenes)
Voiced By
Edit
Nathan O'Brien (The Asdfmovie, replacing Edd Gould, who passed away in 2012)
The "I like trains" kid was modeled and voiced by Edd Gould, who passed away on March 25, 2012 from leukemia. The voice (not the character) appeared once more in Asdfmovie9 when a man answers his phone. His voice also appeared in assdfmovie10 where someone said "Hey! Here comes that trainsgender guy!"
In the Video 'Birthday Questions', a question was asked who would win in a fight between the "I like trains" kid or Mine Turtle, in this video TomSka stated that the "I like trains" kid would win as he is apparently immortal because he got hit by many trains and survived, where as the Mine Turtle would probably go extinct from exploding.
In the episode when he says "I like trains" to his father, Harold, a train didn't appear, making that the only skit with the "I like trains" kid but without the train. It should be noted that the train appeared in the very next scene and so a train has appeared for every time he has said "I like trains".

Because of that, the second scene must have taken place while the first was.

Despite having the sound of a diesel train, looking at the clip of a train running past in any asdfmovie (except in 9) tells that it is a steam train.
The only words ever heard from the I Like Trains Kid are I, like, trains, feel, and great. However, he had to have said more words in his life, for in the I Like Trains (Song), it states that he asked a girl to marry him.
The I Like Trains Kid is seen in every Asdfmovie music video, except for Beep Beep I'm A Sheep
An I Like Trucks Girl has been revealed being voiced by Edd Gould's sister.

However, she was never added in the final film.
Ad blocker interference detected!
Wikia is a free-to-use site that makes money from advertising. We have a modified experience for viewers using ad blockers

Wikia is not accessible if you've made further modifications. Remove the custom ad blocker rule(s) and the page will load as expected.