Got Your Nose
Season 1, Episode 1.1
Air date
August 10th, 2008
Video

I GOT YOUR NOSE

Episode guide
Previous
None.
Next
The Evil Tie
Got Your Nose is the opening skit for Asdfmovie. It is eight seconds long, and was uploaded as part of the first Asdfmovie on August 10th, 2008.
An adult is playing with a baby, and pulls the well known 'got your nose' trick. The police then comes in, and shoot him for having a baby's nose.
Transcript
Edit
Baby: "Hehehehehe!"
(The adult "takes" the baby's nose.)
Baby: "Oh!"
Adult: "Got your nose!"
Baby: "Hehehe!"
(Police officer arrives.)
Police Officer: "Look out! He's got a nose!"
(Police officer shoots gun several times.)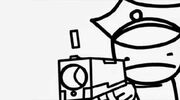 This is the first skit in the entire Asdfmovie series.
Despite none of the characters having a nose, the police officer believes that the adult has the baby's nose.
This is also the first ever asdfmovie skit to have one character getting killed. (For this case, it was the adult who "got the baby's nose".)
Mine Turtle Song
Edit
The Police officer in the 'Got Your Nose' skit is seen in the Mine Turtle music video, where he shouts "Look out, he's got a nose!"(archived recording) at one point, and proceeds to shoot the Mine Turtle (although it is assumed he was aiming for Tom, the drunk scientist who created the Mine Turtle.)