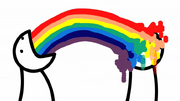 Doctor! is a skit from Asdfmovie2 and Asdfmovie8.
Script from the Subtitles of Asdfmovie2
Edit
Man: Doctor, I think I might be a homosexual.
Doctor: How can you tell?
Man: (Barfs rainbows) RAAAIINNBOOOWWWS!
Script from the Subtitles of Asdfmovie8
Edit
Man: Doctor, I'm afraid of backstories.
Doctor: When did this all start?
Man: Well... AAAAAAAHHHHHHH...
Also there is an extended skit used for Tomska Scap'd Week 2 when after barfing follows to the doctor gets happy and shows a montage of the guy barfing on different people with a song.
This sketch marks the first appearance of the doctor, whom would later go on to appear in other asdfmovies, treating other patients facing other illnesses and problems.
Ad blocker interference detected!
Wikia is a free-to-use site that makes money from advertising. We have a modified experience for viewers using ad blockers

Wikia is not accessible if you've made further modifications. Remove the custom ad blocker rule(s) and the page will load as expected.