Die, Potato
is an asdfmovie recurring sketch that appeared in
asdfmovie
,
asdfmovie2
,
asdfmovie3
,
ultrasdf
, and several of the asdfmovie songs.
Asdfmovie:
Asdfmovie2:
Potato: (pulls out gun) NOT TODAY!
Asdfmovie3:
(Train hits Man and Potato)
(I Like Trains Kid Smiles)
Ultrasdf
(Man points at potato)
Man: Die, Potato!
Potato: Nuuuuuu- But it's opposite day.
Man: OH NOOOOOOOOOOO...
Potato: (Pulls out gun)
Potato: (Shoots man)
R.I.P Sign Plays with a remixed tune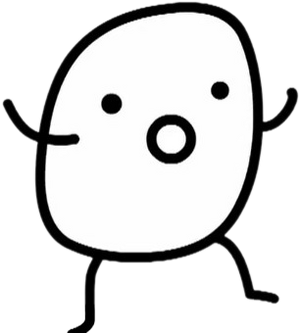 The scenes from Asdfmovie2 and Ultrasdf are the only times the potato doesn't die.
The scenes from Asdfmovie2 and later in Ulrasdf are also the only ones to have him not looking normal.
The potato also appeared in the Mine Turtle, the Everybody Do The Flop music video, and "THE MUFFIN SONG". In the latter, he takes the role of the generic character who baked a pie in the I Baked You a Pie skit, while still retaining his usual role. He performs the "Pie, pie, pie," line in the chorus.
In Asdfmovie 4, the news paper that Harold reads has the headlines saying "POTATO FOUND DEAD", a reference to the recurring sketch.
"Die Potato" is the first ever recurring sketch in the Asdfmovie series.