asdfmovie
Season 1, Episode 1
Air date
August 10, 2008
Written by
TomSka
Video
Episode guide
Previous
-
Next
Asdfmovie 2
Asdfmovie is the first Asdfmovie in the series, and was uploaded to Youtube on August 10th, 2008. It was created by TomSka, along with the rest of the series. The skit "Got Your Nose" was the opening skit (with a bunch of other skits), while the skit "Who's Gay" is the closing skit. This episode is currently has the second highest amount of views, with over 38 million views. Only Asdfmovie 2 has more views. The episode is 1 minute 48 seconds long, and has 10 skits.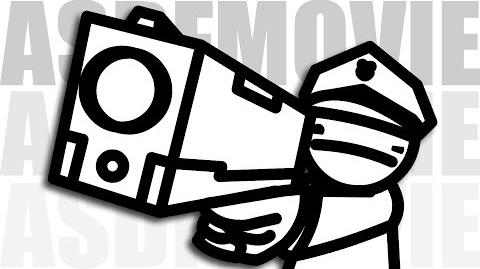 List Of Skits
Edit
Transcript
Edit
(small child giggling; father pretends to take his nose)
Father: Got your nose!
(policeman bursts in through the door)
Policeman: Look out! He's got a nose! (fires his gun)
(asdfmovie title screen and intro music plays)
(static)
Guy: You gotta help me man! My tie is evil and it's gonna kill me!
(other guy slowly walks away)
Guy: Please don't hurt me...
(tie laughs evilly)
(static)
Guy: Hello, parking meter.
Parking meter: Hello!
( guy is surprised and dismayed)
(static)
Guy 1: Hey guy, hey, smell my flower.
(guy 2 smells his flower) Mmm.
(Random monster comes out of guy 1's body)
Guy 2: Lol!
(static)
(Guy presses the button)
(pause)
Guy: Hm.
(static)
Guy: Hey man.
(other guy punches him)
Guy: What the hell is wrong with you?
Level up!
(static)
Woman: Somebody help me! I'm being robbed!
Superhero: I'll save you! Tree powers activate!
(Superhero turns into a tree)
(static)
Potato Killer: Die, potato!
Potato: Noooooooooooo--
(potato gets stepped on)
(static)
Man: mmmm Yum!
(cuts the cake)
Cake: AAAAHHH! WHY WOULD YOU DO THIS? I HAVE A WIFE AND FAMILY!
Man:  Noooooooo!
Cake: THE PAIN! IT'S UNBEARABLE!
Man: What have I done?
Cake: TELL MY CHILDREN I LOVE THEM!
Cupcakes: Daddy!
(cake falls off the side of the table)
Man: Noooooooo--
Cupcakes: --oooooooooo
(cake hits the floor)
(ending credits play)
Bully: Hey! You know who's gay? YOU!
(other guy stabs the bully)
Bully: Aw, COME ON!
Cast And Crew
Edit
Animators: PivotRJ/GlassCake
Voice Actors: Tomska And Bing
Musicians: Binaerpilot
Director: Tomska
This is the first Asdfmovie in the series.
This Asdfmovie has the second highest amount of views, with Asdfmovie 2 barely passing the amount of views it has.
This Asdfmovie introduces the recurring skits Die Potato and Who's Gay.
A lot of people think that this one is out of sync citiation needed